The restorative justice program graduated 46 participants Thursday, giving young, nonviolent offenders a clean slate and chance to start over.
After an overnight mass shooting injured at least 15 people in North Lawndale on Oct. 29, a number of community partners and city agencies stepped in to coordinate services for victims and their families
There was a mass shooting at a Halloween party in North Lawndale last weekend where at least 15 people were wounded. Last year, there was also a mass shooting over Halloween that killed one person and wounded 13 more in East Garfield Park.
Reset learns about this recent shooting and what survivors of gun violence need to heal from the physical and emotional trauma of gun violence.
Violence prevention and trauma response organizers from around the city are stepping up after a mass shooting at a North Lawndale Halloween party.
At a corner in North Lawndale, the familiar tune of an ice cream truck rang out as it drove past crowds of community leaders and advocates who wanted to create a welcoming atmosphere for those in the neighborhood affected by gun violence looking for resources.
Kanesha Gaines was at a backyard birthday party in the 1500 block of South Keeler Avenue when a black Jeep pulled up early Sunday and several gunmen opened fire, striking nine people, police said.
Starting on Saturday June 3, 2023, at 10:00 AM, the men of Alpha Phi Alpha Fraternity, Inc. Iota Delta Lambda Chapter Ideal Education Foundation in collaboration with UCAN Chicago will host an anti-violence prevention program on the west side of Chicago. The program consists of three consecutive Saturdays staring on June 3rd, 10th, and 17th with the last day occurring on the Sunday the 18th.
CHICAGO—Crime was the biggest issue in this spring's Chicago mayoral race, and business leaders largely supported Paul Vallas, whose solution was putting more cops on the street.
Chicago is known for having high levels of violence, but it's also generating buzz for violence prevention. Top Justice Department officials visited the West Side to meet Thursday with officials behind Chicago's rapidly expanding network of community-based anti-violence programs.
The UCAN team is fully engaged as one of the community-based organizations in the Back To Our Future initiative that supports youth and young adults in returning to school and gaining skills and opportunities to join the workforce. Check out this feature on NBC 5 Chicago.
The partnership, which receives public and private funding, deserves to be scaled, say the leaders of three violence prevention organizations.
The collaborative is unique because of the level of coordination and commitment among our partners. It includes two community organizations, the North Lawndale Employment Network, and UCAN as well other community partners in adjacent neighborhoods. Chicago police are also fully aware of the outreach work we do, and they recognize its value.
Hundreds of students from the North Lawndale community will get backpacks, bedsheets and other essentials on Aug. 5, before heading off to school.
Christa Hamilton, CEO of the Social Service agency UCAN, talks with Craig Dellimore about the organization's efforts to help strengthen communities plagued by gun violence.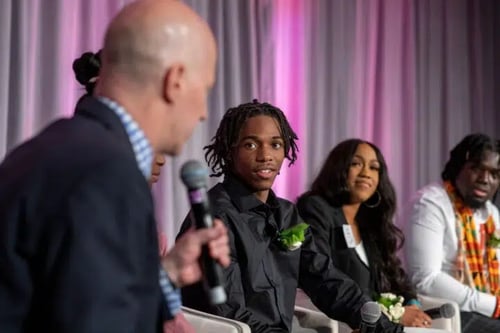 UCAN hosted its 23rd Annual Youth Leadership Awards (YLA) on Wednesday, June 1, 2022, to honor Chicago youth from the West Side. The YLA event typically awards seven recipients with scholarships for higher education. This year, a total of nine young people were honored at the event.
The Olive Harvey College program aims to create more racial equity in the weed industry — from the ground up. It's on track to have an associate's degree in cannabis studies by next year.
FEBRUARY 26, 2022: UCAN'S PRESIDENT AND CEO, CHRISTA A. HAMILTON, IS INTERVIEWED FOR RAINBOW PUSH COALITION'S SATURDAY MORNING FORUM.